The basis of the RF GT40 is a more modern triangulated space frame with all mounting and fixings factory welded on precision jigs. With the chassis, the intention is that it can be used as the basis of a relatively inexpensive high-performance road car, while at the same time capable of more serious competition use. The difference being the addition of integrated 4 or 6-point roll cage and four or five-point seat harness mounts.
The suspension is very similar to the original Ford GT40, with double wishbone front suspension which comprises of independent, non-parallel, unequal length "A" frame control arms. The rear suspension has lower reversed "A" control arms, single top link and double radius arms and uses our own cast aluminium or magnesium uprights. All suspension "pickup" points have been positioned via computer design, CAD modelling, CNC machining and extensive road and track testing by professional racing drivers, to ensure optimum performance. The springing is provided by coil-over adjustable dampers front and rear, which are custom built for our car and fully tuneable.
The primary power plant is the quad cam 5.0 litre Ford Coyote engine as used in the Ford Mustang. This engine is emissions compliant in all states, starts at 435 hp and can readily be upgraded to much higher performance.  The engine is mated to a Getrag 6 speed transaxle via specially designed and manufactured adaptor plates and flywheel, mated to a twin plate clutch.
The footwells have been extended to accommodate a fully adjustable floor mounted pedal box, to assist in accommodating taller drivers. A 25mm "drop floor" and door top blister, originally known as a "Gurney Bubble" are available to accommodate taller drivers.
On the outside of the chassis, all the bright-work is supplied in laser cut aluminium. Even the rivet holes are laser cut for accuracy and hence aesthetic appeal, as well as to ease the build process. Door handles and fuel filler caps are exact replicas of the original. Purpose made wheels are available from us in a choice of sizes and offsets. The wheels are replicas of those fitted to the original cars, in both Halibrand and BRM styles to give that extra attention to detail. Knock on or spinners are used to mount the wheels.
All wiring harnesses are specifically formed, fully terminated, tested plug and play systems. They cannot be installed incorrectly as each connector will only fit to its specified mate.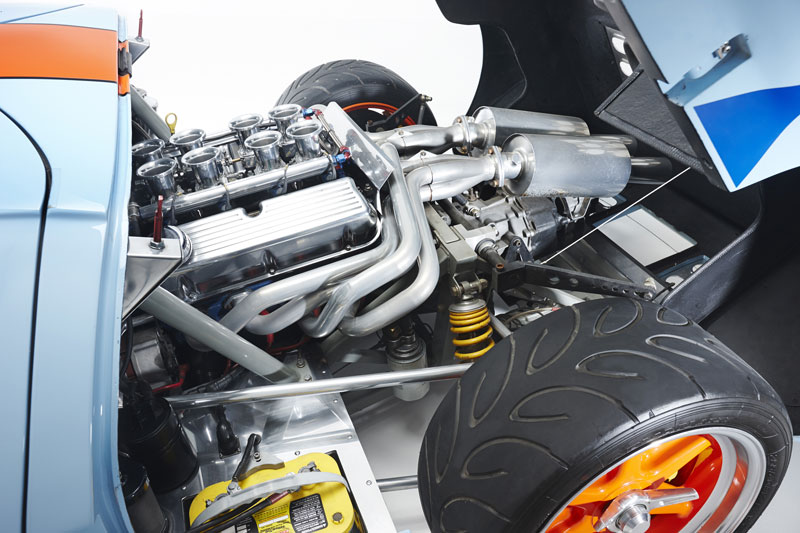 Inside the car, again the painstaking attention to detail is obvious. The original Smiths gauges are now available with modern internal mechanisms, including the 300 km/h speedometer, 8000 rpm tacho, fuel gauge, oil pressure gauge, water temperature gauge, battery voltage gauge and analogue style clock, together with original "Lucas style" toggle switches. We offer a high degree of original authenticity combined with modern reliability and accuracy.
The holed hollow riveted seats, to replicate the original units, are manufactured specially for RF GT40 and come standard in black leather with lumbar support. Original style steering wheel & boss are used to complete the picture.
With the standard configuration, top speeds of 250 km/h and 0-100 km/h times of 5 seconds are normal, but with modified & tuned engines, these figures can be dramatically improved upon.
The body finish is smooth, strong and ripple free. It is constructed from hand laid Glass Reinforced Plastic (GRP), manufactured by professional laminators. The roof centre section and the doors are both double skinned and reinforced to ensure a good fit. "Eyebrows" are also available to further enhance sealing of the door/roof area at high vehicle speeds. The recesses for all catches and fuel fillers are ready moulded. All edges are fully returned to aid panel fit lines.